Have you ever sung in a choir? Is it something that you've considered but never followed through with? Today I want to talk about the joys and benefits of group singing. The image below is a picture of my high school choir (can you find me?). I was 15 yrs old at the time and I still treasure the experiences  and friendships I gathered singing with friends. I went on to sing in choir as a music major in college and at a professional level after graduation in Chicago.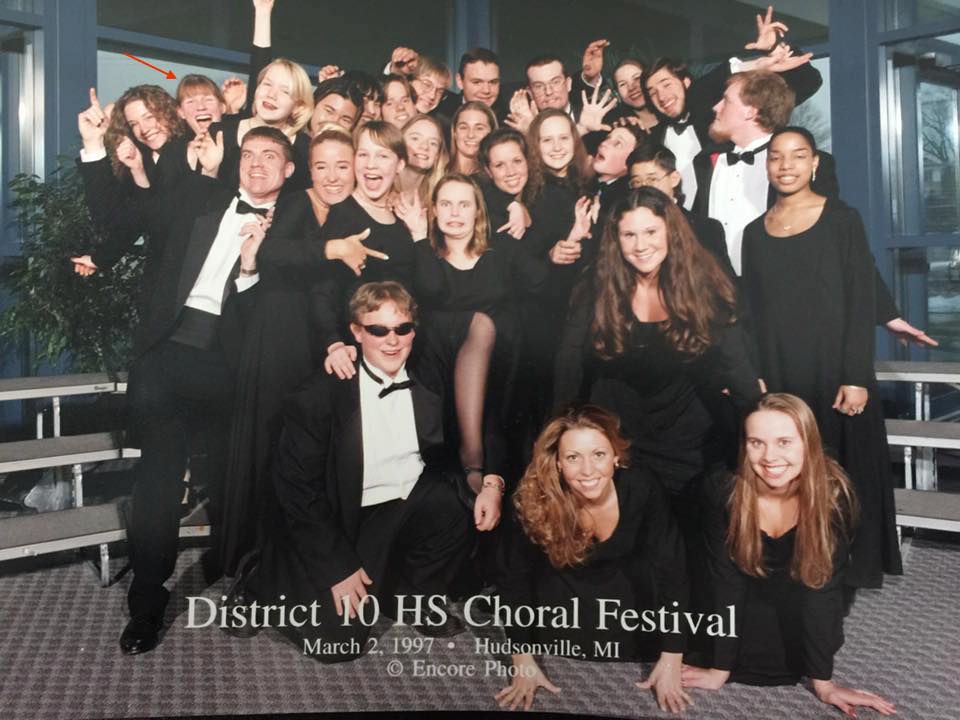 Musical Benefits Of Choir Singing
Improve Your Music Reading/Sight Singing Skills. Most choirs, which the exception of some gospel groups, use sheet music. Grade school, middle and high school choir directors often focus on teaching sight singing for the benefit of their young students. The act of reading music while you sing teaches musicianship basics like rhythm and pitch.
Learn To Blend With A Group Of Other Singers. Choir singing is about creating a unified sound- not about being heard above the crowd. To do this, we have to be aware of our own tone quality and the tone quality of our fellow singers. The goal is to blend with the voices around you as one voice. A good choir director spends time focusing on vocal tone, vowel sounds and blend. Learning to adjust your tone and volume to blend with those around you is an exercise in careful listening and vocal control.
Keep Your Vocal Instrument In Shape. Singing on a regular basis is essential for improvement and keeping your voice in good shape. Generally, a choir will rehearse at least twice a week. In high school and college, choirs often meet daily. Joining a singing group is a great way to hold yourself accountable- it can be more fun than practicing alone.
 Sharpen Your Harmony Singing Skills. I can always spot students who grew up singing in church choir because they have great ears for harmony. Splitting into voice parts (soprano, alto, tenor, baritone, bass) to create harmony is a staple of choir singing. The more advanced the singers and score, the more vocal parts are possible. Singing in parts will train your ear to hear harmonies. The great thing is, you get to practice singing harmony with the help of a choir director and fellow singers. If you are having trouble hearing your part, there will be other singers in your section who you can lean on.
Health Benefits of Group Singing
Reduce Stress And Sadness. Singing in a choir has big benefits for physical and mental well being. Research has suggested that group singing increases oxygen levels in the blood and triggers the release of the hormone oxytocin, which is associated with happy feelings and stress relief. Oxytocin also enhances feelings of trust and bonding. Singing releases endorphins as well.
Build Lasting Friendships. Almost all of my best friends are singers. We formed deep bonds singing together in high school choir and theater, college a capella groups and rehearsing and performing as professional musicians. Research on group singing shows that people who sing in a choir have a strong sense of being part of a meaningful group. Studies have shown that a group of singers actually synchronize their heart beats. Amazing, right? Here is a quote from a great Time.com article–

"Researchers 

discovered

 that members of a choir saw their heart rates beat in unison in relation to the speed of their breathing. Heart rates were directly affected by the melody of the music, and the pulses of those tested rose and fell at the same time when they sung in a group."

Check out these two interesting articles on the subject as well- 6 Psychological and Physical Benefits of Choral Singing and Choral Singing Boosts Your Mental Health
Here is a little recording I did with 2 friends I met in choir over 20 years ago. We are still singing together 🙂
I encourage all of you to join a choir or singing group. It's a wonderful experience and an excellent place to make new friends and hone your singing skills. Some choirs require an audition, but many do not. If you want to find a singing group to join, check out ChoirPlace and ChoralNet. Or simply google "choir" and the name of your town and you should find something. Most churches have choirs and many towns have community choirs that require no audition.
Tell me about your experiences with group singing in comments section!