Have you ever been asked what your vocal range is and not had a good answer? Knowing your vocal range will help you pick the songs/keys that work best for your voice and showcase your vocal strengths.
First… Lets figure out your vocal range. It's easy! You just need to find the lowest note you can comfortably sing and the highest note you can comfortable sing. If you don't already know the names of the notes on the piano, click here.
Go to a piano or find a virtual keyboard with at least 3 octaves.
Sing a note that feels near the bottom of your register and comfortable.
Find that note on the piano. *Ladies, you should start looking for your lowest note around middle C and move down from there. Guys, start on the C an octave below middle C to find your lowest pitch.*
Now, move down in half steps from that note until you reach your lowest comfortable note. This should be a note that you would be comfortable sustaining and hitting consistently, not just the lowest sound you can make
Now do the same for your highest note. Do this in head voice (don't try and belt).
It's also very helpful to know the highest note you can comfortably belt. If you like to sing Pop, R&B, Rock, Gospel, Musical Theater or almost any contemporary style, you will probably be using your chest voice some of the time. Knowing how high you can safely take your chest voice will help you choose the right songs/keys and keep you from vocal strain or damage.
We use numbers to indicate which A B C D E F or G we are referring to when talking about vocal range. For instance, my range is G4 to D6 (I'm a soprano). My highest belt note is C5.
Here's a diagram of the entire keyboard with numbers. Middle C is C4.

Now that you've figured out your vocal range….Let's see where you fit in. Women's voices are categorized in three parts (from high to low) Soprano, Mezzo Soprano and Alto. Men's voices are from highest to lowest are Tenor, Baritone and Bass.
Here are the traditional ranges for each voice part. This is just a guide, many people have larger ranges than listed.
Vocal Ranges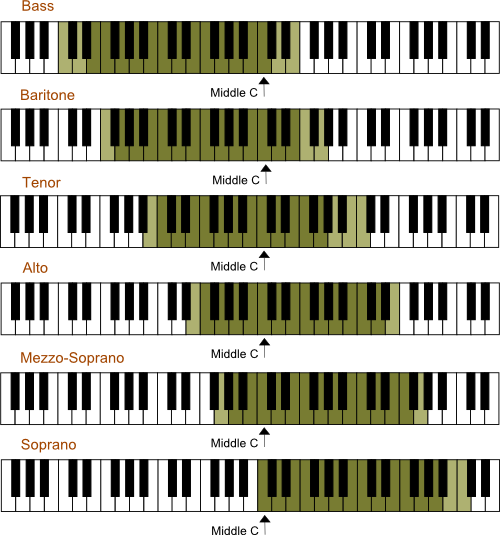 In reference to the Vocal Ranges chart above, here are the ranges listed with letter names & numbers.
Bass: C2-E4, Baritone: F2-G4, Tenor: B3-C5, Alto: E3-E5, Mezzo: G4-G6, Soprano: C4-C6
Can someone expand their vocal range?
Absolutely! My students gain notes at the top of their registers as soon as they learn to support the sound with breath and relax the muscles in the neck, throat and face. Our voices get lower as we get older, so if you're younger than 30, you will probably gain a few notes at the bottom of your register.